Your Friendly neighborhood editors
Small is beautiful
Blue Hills Editorial Services is the quintessential American small business. The two of us have collaborated on various writing and editing projects for 40 years — even longer than we have been married.
When you hire Blue Hills, you are hiring the owners of our home-based business — not some anonymous assistant fresh out of college. We confer on all projects and divide up the work according to our individual talents. We specialize in science and technology, business, education, and health care writing and editing, as well as many other subject areas. We've even worked on fiction projects and resumes.
Best of all, we've taken enough trips around the sun to know what we don't know. If we believe that we can't do your project justice for some reason, we won't take it on. You can hire us with full confidence that we're up to your job.
Anne Stuart
Anne Stuart is a veteran Boston-based writer, editor, and instructor.
Currently, she is the senior editor for custom content at MIT Sloan Management Review.; previously, she was a communications officer for MIT's Department of Electrical Engineering and Computer Science, and, before that, senior editor for custom content at MIT Technology Review. Earlier in her career, she was a reporter for several daily newspapers and The Associated Press, a senior editorial staffer for several national magazines, including Inc., CIO and Harvard Magazine, and writer or editor for many websites. Her work has won many awards.
She has also freelanced—part-time or full-time—throughout her career. She has contributed to The New York Times, The Boston Globe, The Boston Herald, Newsday, The American Lawyer, Northeastern Magazine, American Way (in-flight magazine) and many other newspapers, magazines and online publications. She has also edited book manuscripts, blog posts, columns, op-eds, essays, freelance queries, and more.
In addition, she has extensive experience in creating print and online custom content, such as reports, white papers, briefing documents, infographics, and other products. Corporate and nonprofit clients include Dell, Ford, Google, IBM, the Italian Trade Agency, the Lemelson-MIT Program, Microsoft, and SAP, among many others.
Anne teaches occasional graduate communication courses at Regis College in Weston, Mass., and has also taught at Southern New Hampshire University and Lasell University, among others. She regularly leads noncredit writing workshops both in person and online, and she's spoken at many professional writers' conferences.
Anne received a bachelor's degree in journalism and English from Michigan State University and a master's degree from the Columbia University Graduate School of Journalism. When you hire Blue Hills for editorial consulting, you'll get Anne (who also accepts writing projects as time allows). Anne handles most of our client relations. E-mail her at anne [at] bluehillsedit.com.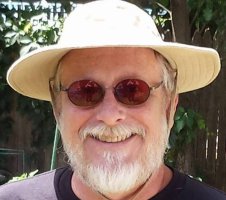 Ken Parker
Ken studied journalism at Grand Rapids Junior College (now GRCC) and English at Michigan State University, where he worked as the chief copy editor for the Michigan State News, a 40,000-circulation daily newspaper, and proofread the entire paper every night before it went to the printer. After graduation he embarked on a career as a bookseller, managing stores for three different companies and culminating as the book buyer at the Museum of Science, Boston.
When the bookstore industry tanked in the mid 1990s, Ken decided that 16 years in that field was long enough, and leaped into computer game development—his passion at the time. Besides working as a tester and a producer, he was the writer at Impressions Games and at Tilted Mill, studios that specialized in such historical strategy games as Caesar III, Pharaoh, Zeus, Civil War Generals II, Children of the Nile, and many others. He wrote in-game text, character dialog, and entire game manuals, managed internal documentation, contributed extensively to each company's website, and helped develop marketing materials.
Ken turned Tilted Mill's failure into an opportunity to try his hand at retail as the owner of Curio City Online in 2005. Writing, editing, business, and computer skills all came together in developing and marketing his online store. He closed Curio City in January 2019 so that he could focus exclusively on Blue Hills Editorial.
Through all of those years, Anne occasionally called upon Ken to proofread and ghost-edit her freelance work, calling him "the best editor I've ever known." He also took the odd gig as a restaurant reviewer for Microsoft Sidewalk and The Boston Globe.
In 2017, Ken expanded upon his Curio City business experience to found Blue Hills Editorial Services and get back to his copy editing roots. Blue Hills is Ken's day job, not something that he does on the side, so (unlike other freelance businesses) he can usually offer quick turnarounds on short notice. When you hire Blue Hills for proofreading or copy editing, you'll get Ken. He also does most of the writing and editing, with some input from Anne when that adds value. Email him at ken [at] bluehillsedit.com.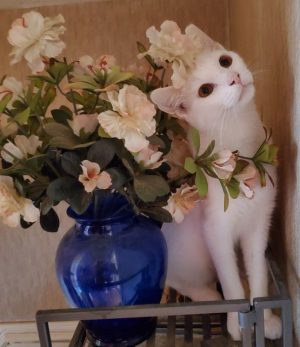 Warren Z
Every writer needs an animal familiar, right? Warren's editing experience is limited to taking the occasional walk across an untended keyboard, but he's always willing to help out by lying on our desks and reminding us when it's time to eat.